Overview of Window Shutters
Nothing controls light and privacy in quite the same elegant way as wooden shutters. Each custom shutter panel is made to exact specifications to ensure smooth operation and everlasting quality. Regulate the louvers to control the light entering the room to create just the right ambience.
INTRODUCING: Roll Shutters
Our durable aluminum shutters are custom manufactured and designed to suit almost any window style. Roll Shutters are energy efficient, great for security and are  manufactured locally in Alberta to ensure high quality materials and speedy installation.
Plantation Shutters
The 3 ½" louvers are the perfect scale for the large windows of today's homes. The plantation louver provides maximum light and view when it is in the open position and complete privacy when closed. Our extra thin, tapered louver stock is just as strong as our competition, but far less obstructive.
The 3 ½" louver is by far our most popular line, but we can produce any size and configuration you desire.
Exterior Shutters
Offering a fine line of exterior shutters in either fixed louvers or raised panels will surely compliment the architecture of any home.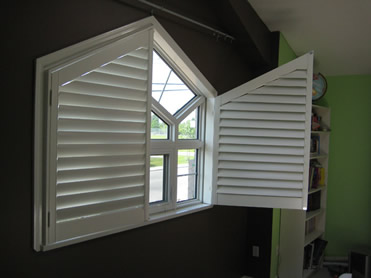 Custom Shutters
The Shutter Works offers a superior line of custom products to solve an array of problems from raked or eyebrow windows to arch tops. All of our products can be made from a wide variety of timber from exotics to readily available North American hardwoods.
Custom Finishing
All of our custom finishes and paint products are of superior quality to withstand everyday use and intense sunshine. Under normal use, these durable products will stay fresh and clean looking for many years of enjoyment.
Call Tom Thomson at (403) 660-6346 for a FREE in-home design consultation.
If you have window sizes available, Tom could provide you with an estimate over the phone or email. A written quote will be provided upon viewing the project, however, a home consultation is best as you can see a shutter panel displayed in your own windows, which will help you visualize a completed project. You can contact us by email, info@theshutterworks.ca.